Archives by date
You are browsing the site archives by date.
The future of healthcare is changing for the better with novel medical technologies emerging at a record pace. One such technology developed by a UBC startup in recent years has made remarkable strides in bridging the gap between research and commercialization. UBC's Institute for Computing, Information, and Cognitive Systems (ICICS) and entrepreneurship@UBC (e@UBC) helped make […]
On 1 October, the ICICS Bionics Network research cluster hosted a Cluster Exchange Day to further integrate Research Excellence Clusters at UBC. This event included talks by cluster leads, a poster session and technology demonstrations showcasing  advances in a variety of related fields. Attending the event were representatives from  Biomedical Imaging and Artificial Intelligence, Dynamic Brain Circuits, […]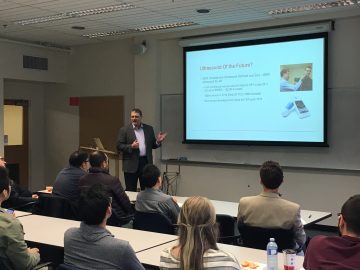 On October 11, ICICS hosted a talk on translating technology from the lab into practice. Dr. David Zar presented "From the Lab to the Market: Bringing Solutions to People Who Need Them" to an audience of ICICS members and graduate students interested in commercializing novel medical and other devices. Abstract: Many great ideas are developed in […]
On September 17 and 18, ICICS hosted a networking event for research alumni from Friedrich-Alexander-Universität (FAU) Erlangen-Nürnberg who now work in the USA or Canada. Under the theme of "The Future of Digital Innovation," the event allowed these FAU Research Alumni members to meet each other, exchange ideas, and strengthen their affiliation with FAU, while learning […]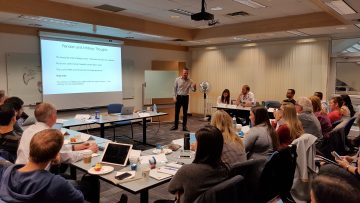 Entrepreneurship@UBC Managing Director Barry Yates took time out of his packed schedule in September to deliver a sales workshop to the latest cohort of HATCH ventures.  Additional workshops in team building, establishing company values, and messaging help prepare the new ventures for the very tough road to launching a successful company.