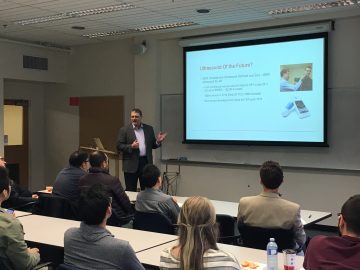 On October 11, ICICS hosted a talk on translating technology from the lab into practice. Dr. David Zar presented "From the Lab to the Market: Bringing Solutions to People Who Need Them" to an audience of ICICS members and graduate students interested in commercializing novel medical and other devices. Abstract: Many great ideas are developed in […]
On September 17 and 18, ICICS hosted a networking event (see video) for research alumni from Friedrich-Alexander-Universität (FAU) Erlangen-Nürnberg who now work in the USA or Canada. Under the theme of "The Future of Digital Innovation," the event allowed these FAU Research Alumni members to meet each other, exchange ideas, and strengthen their affiliation with FAU, […]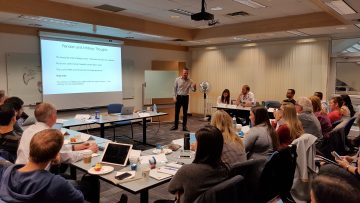 Entrepreneurship@UBC Managing Director Barry Yates took time out of his packed schedule in September to deliver a sales workshop to the latest cohort of HATCH ventures.  Additional workshops in team building, establishing company values, and messaging help prepare the new ventures for the very tough road to launching a successful company.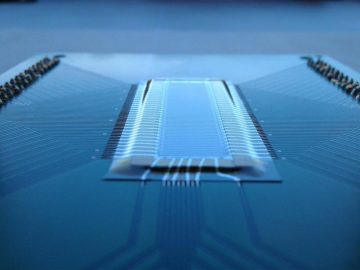 Carlos Gerardo, a PhD candidate in Electrical and Computer Engineering (ECE), along with supervising professors Robert Rohling (ICICS Director/ECE/Mechanical Engineering) and Edmond Cretu (ECE/ICICS), have developed a new ultrasound  probe that could reduce the cost of ultrasound scanners to $100. Their invention is portable, wearable, and can be powered by a smartphone. The researchers explained […]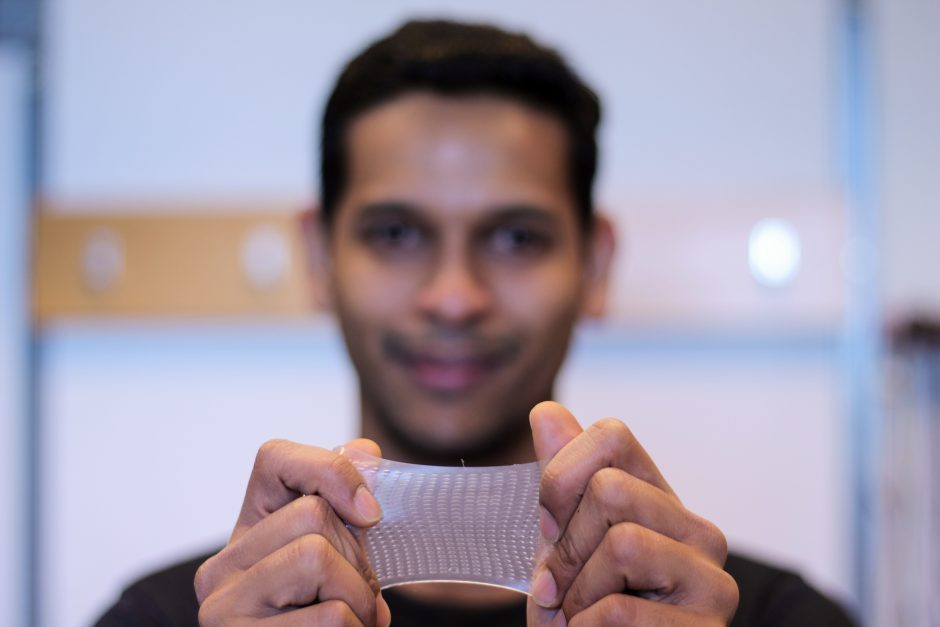 The Molecular Mechatronics Lab, led by Professor John Madden of the ICICS Bionics Network research cluster, has developed a transparent and flexible touch sensor that can detect a light touch and even the proximity of a finger. Potential applications include flexible and rollable hand-held electronics that require a touch screen interface, sensors embedded in sportswear, […]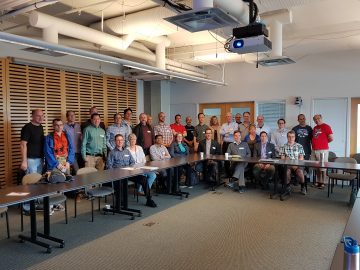 The ICICS Centre for AI Decision-making and Action (CAIDA) has launched,  with a network of over 50 professors from multiple departments leading groups that develop AI tools for decision-making and action. CAIDA also studies the social, policy, and ethical impacts of AI.
Six of the companies from the original cohort of ventures graduated from HATCH at the end of June, cheered on by their peers and mentors. Acuva  Technologies, Microdermics,  Excelsense Technologies Corp., Illusense Inc., Sonic Incytes, and AnoMotion Interactive, Inc. will all be moving on to the next stage of bringing their innovations to market.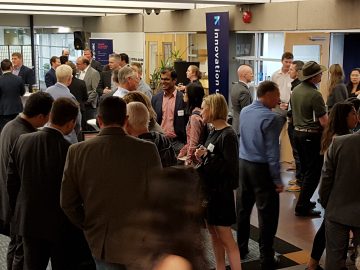 Selected HATCH ventures were on hand to discuss their ventures with attendees at the official launch of the new Innovation UBC hub at Robson Square on June 14.
Dr. Fausto Milletari from NVIDIA gave a talk in ICICS on June 14 on "Advancement and Trends in Medical Image Analysis Using Deep Learning." Fausto Milletari is a Senior Solutions Architect at NVIDIA and a Ph.D. graduate from the Technical University of Munich. His major research topic is the segmentation of medical images. The talk […]