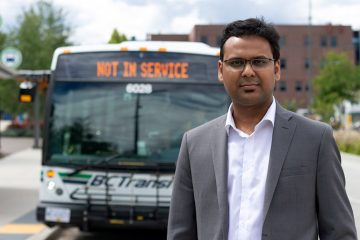 November 24, 2022
Professor Mahmudur Fatmi, a Civil Engineering professor at UBC-Okanagan (UBC-O) with a focus on transportation, is the PI on a recently awarded $2.85M federal grant from Environment and Climate Change Canada for "Integrated Development of Transport Data, Model and Community Outreach Tool for Urban and Rural Regions."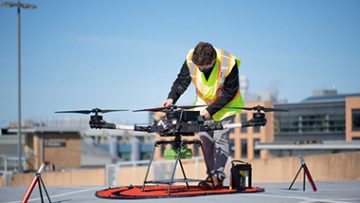 November 15, 2022
The "Campus as a Living 5G Lab" created by the UBC-Rogers Partnership is being used to research the viability of employing drones in cities—which UBC models—to safely deliver packages like prescription drugs.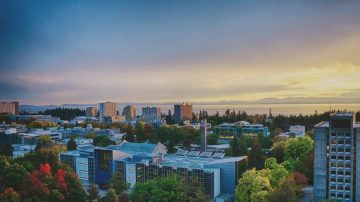 The ICICS research cluster Blockchain@UBC will be hosting block #7 of the Blockchain Governance Initiative Network from November 30 – December 2, 2022. Block #7 focuses on governance for digital economic networks. Overall, the Blockchain Governance Initiative Network (BGIN) seeks to deepen common understanding and to collaborate to address issues faced in sustainable development of the blockchain […]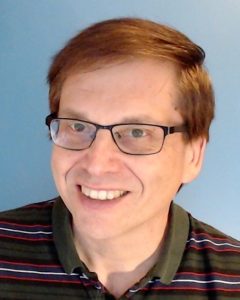 November 4, 2022
Professor Dave Michelson, who is an active researcher in the UBC-Rogers Partnership on 5G R&D, has been invited to share his expertise by teaching the postgraduate course "Propagation and Channel Modeling in 5G Communication System Design" atthe Harbin Institute of Technology (HIT) in China.
November 1, 2022
In this interview, we talk with Tanya Bennet, from the UBC New Frontiers in Research Fund Project, Mend the Gap. Tanya is a PhD candidate in the in vitro testing team led by Dr. Karen Cheung.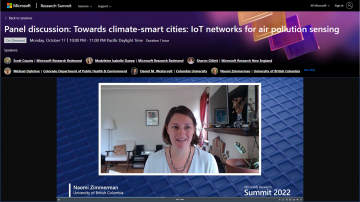 October 26, 2022
Dr Naomi Zimmerman of Mechanical Engineering is the lead on the "Intelligent Transportation Data Platform and Environmental Sensing for Sustainable Cities" research project supported by the UBC-Rogers Partnership.  She recently discussed her work at the Microsoft Research Summit, "Towards Climate-Smart Cities: IoT Networks for Air Pollution Sensing."
October 21, 2022
UBC is part of a 3-year, integrated research program funded by Wellcome Leap to reduce the incidence of stillbirths by one-half.
The 2022 Venture Showcase took place November 23 this year, in person at UBC Robson Square and online via live stream. The Venture Showcase featured teams from across the UBC innovation pipeline, ranging from up and coming 'Ones-to-Watch' teams at the outset of their journeys in incubation, 'Sneak-a-Peek' ventures who are in the middle of commercialization and […]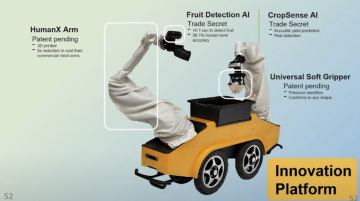 Several HATCH ventures are garnering international attention and awards, a testament to the training they receive in HATCH. One of this year's graduates, Neupeak, has developed compact autonomous intelligent fruit-picking robots with a seven-degrees-of-freedom robotic arm for harvesting strawberries, raspberries, blueberries and other fruit, night and day. The robot's AI system can also analyze the […]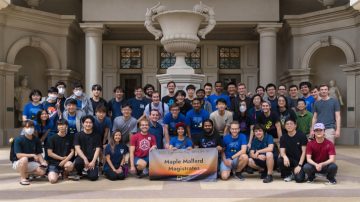 October 7, 2022
A student team from Computer Science led by Professor and ICICS member Robert Xiao joined forces with crews from Carnegie Mellon University and the startup Theori.io to win DEF CON 2022, the world's top cybersecurity competition.